The third triennial International Mokuhanga Conference is being held this week at the University of Hawaii in Honolulu. I will be documenting this event on Japanese woodblock printmaking over the week ahead, but wanted to share with you "The Vision and Journey to Establish the International Mokuhang Conference" in Honor of Keiko Kadota. This statement is written by Yasuki Sato, IMC2017 Director and included in the conference guide.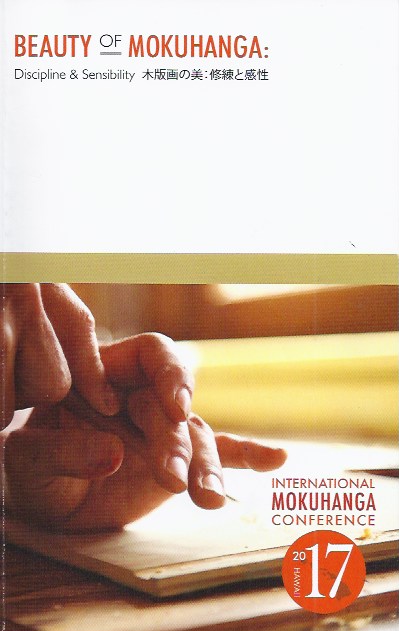 Cover of the 2017 International Mokuhanga Conference guide.

"In 1992, Keiko Kadota's field research for the Center for the Science of Human Endeavor (SfSHE) established to promote Japanese traditional culture and technology, gathered momentum to globablize the art of mokuhanga. This journey began with a visit to Crown Point Press in San Francisco where Kadota experiened a life-changing moment viewing the work of the Kyoto master printer Tadashi Toda. Mokuhanga such as Shikibi by Jose Maria Sicila translated by Master Today astonished Kadota because of how effortlessly Japanese technical mastery combined with cutting edge contemporary art concepts.

Inspired by her trip to the US, Kadota consulted local government administrators back in Hyogo prefecture, where Mr. Wasaburo Kashiwagi, the mayor of Tsuna-town, kindly agreed ot her proposal that would allow her to start a mokuhanga collaborative workshop in his town on Awaji Island.

Under Kadota's guidance, these mokuhanga workshops rapdily attracted athe intererest of contmeporary printmakers around the workd. This growing interest influenced CfSHE to consult with the Japanese Agency for Cultural Affairs, the Department of Trade and Industry and the Japan Foundation to form a sustainable mission. Together they developed the Nagasawa Art Park Pilot Program in conjunction with Tsuna-town, creating the first mokuhanga artist-in-residence program.

For over twenty years, more than 200 artists who studiend mokuhanga at Nagawaa Art Park and later at Mokuhanga Innovation Laboratory (MI-LAB) have worked as researchers, studio artists and organizers of artist residencies. These artists have helped build the foundaiton of the International Mokuhanga Conference (IMC) which now attracts a range of artists and educators from around the globe.

Kodota consulted with Kari Laitinen and Tuula Moilanen, aughots of the Art and Craft of Woodblock Printmaking and Karen Kunc, the Director and Founder of Constellation Studio in Nebraska, to help realize the first IMC in 2011 held in Kyoto and on Awaji Island. The second conference was organized in Tokyo in 2014, aiming to foster greater interest in the exchange of tradition, history, techniques and innovations around mokuhanga.

This third triennial International Mokuhanga Conference in Hawai'i is a celebration of Keiko Kadot'as legacy as a proponent of mokuhanga who profoundly influenced the lives of so many artists, craftspeople and educators. It is the first conference to be held outside Japan on account of the Hawai'i Local Committee and many others who agreed to organize the conference here.

Hawai'i is the state of Aloha and it is with great honor that we have been invited here ot share the art and craft behind mokuhanga. And it is with this spirit of Aloha that we continue to carry out Kadota's legacy.

Keiko Kadota, the founder of IMC, passed away on January 10, 2017."